Automation & Robotics Technician
The Automation and Robotics Technician program provides an introduction of industrial automation including the use of CAD SolidWorks software, PLC programming, Industrial Motors and Controls, and the operation and programming of robotics systems. The program examines applications and examples of automated manufacturing systems including both classroom and hands-on lab exercises.
Robotics Technicians build, install, test, or maintain robotic equipment or related automated production systems. They also make repairs to robots or peripheral equipment, such as replacement of defective circuit boards, sensors, encoders, or servomotors.
Career Opportunities
Aluminum Welder
Fabrication Welder
Fabricator
Fitter/Welder
Maintenance Welder
Mig Welder
Sub Arc Operator
Welder
Welder-Fitter
Welder/ Fabricator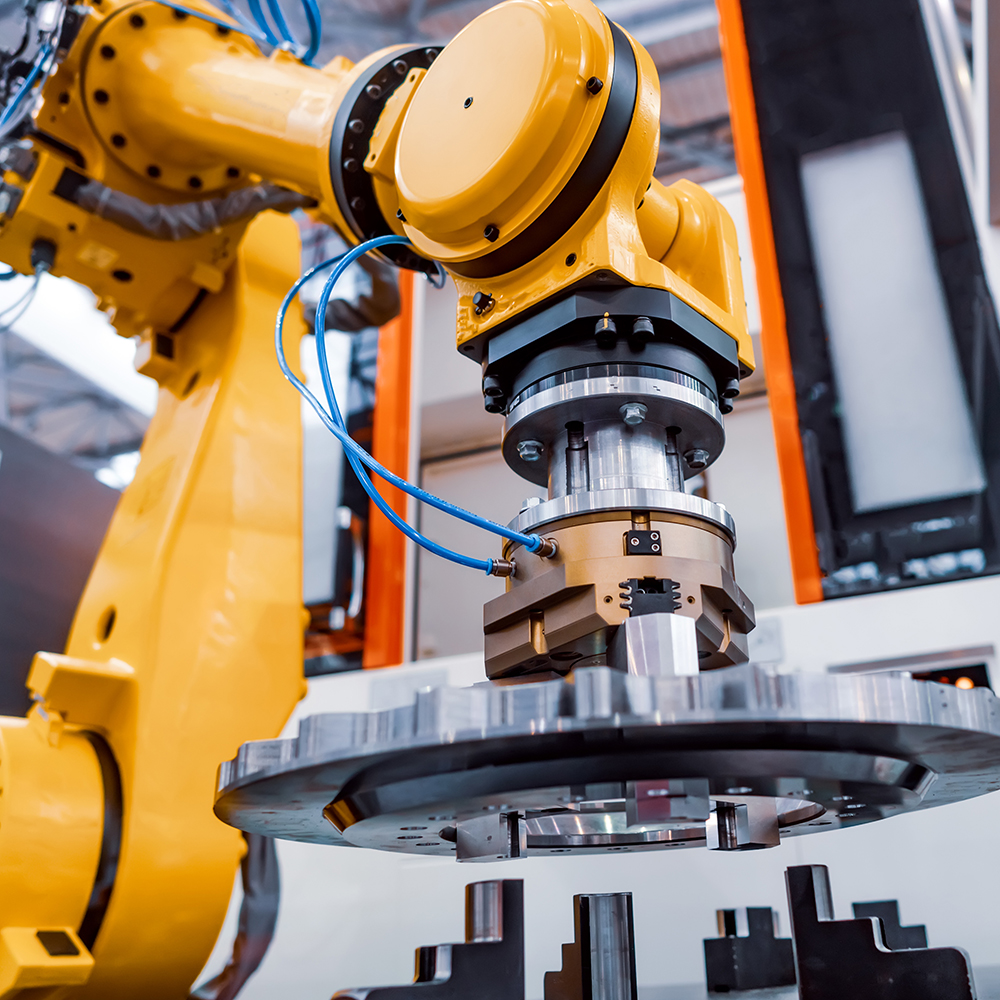 Suggested Degree Plan for Automation & Robotics Technician Certificate
Do not use this degree plan as a substitute for an advisor. Always meet with an advisor to discuss your specific needs for completing the program before signing up for classes each semester.
First Semester
Details
CAD 101
Introduction to Drafting and Blueprint Reading for CAD
Details
3

Introduces the student to basic tools and techniques needed in the drafting and blueprint reading profession as applied to CAD.
Prerequisites:
(none)

CAD 114
Introduction to Parametric Modeling
Details
3

This course is an introduction to engineering design and graphics, including design problems, sketching, dimensioning, tolerancing, multi-view orthographic representations, auxiliary views, section views, and working drawings. Students are required to use CAD in this course.
Prerequisites:
(none)

ELE 135
Programmable Control
Details
3

A practical and theoretical approach to the installation, programming, and maintenance of programmable control (PC) equipment. The course develops skills in the application of PC equipment and computers in manufacturing processes. Practical laboratory activities are provided.
Prerequisites:
IMT 120 or consent of department

FYE 101
Blazing Your Trail
Details
1

Directed to new students, this course provides a supportive transition to the culture of higher education. Course objectives aim at preparing students for the college experience by acquiring effective learning techniques and by becoming aware of available college resources for academic and personal growth. This course also develops students' abilities, which will assist them with the complexities of college life.
Prerequisites:
(none)

IMT 120
Industrial Motors & Controls
Details
3

This course is designed to provide a theoretical framework for the understanding of motors and controls and its applications with hands-on activities to reinforce the concepts introduced. Students will learn about motor control systems, devices, circuits and troubleshooting. 1.5 lecture hours, 3 lab hours
Prerequisites:
(none)

MFG 145
Introduction to Robotics Operations
Details
3

This course covers the evolution of robotics and how they are used in a manufacturing or distribution facility. Student will learn the various classifications of robots, understand work-cell sensors, end-of-arm tooling, and the various types of robotics programming.
Prerequisites:
(none)
Second Semester
Details
MAT 100
Technical Mathematics
Details
3

A course designed to cover mathematical processes and problems that relate to career, technical and workforce applications. Specific topics include fractions; decimals, ratio, proportion and percentage; measurements; and area and volume.
Prerequisites:
(none)

MFG 104
Quality/Continuous Improvement
Details
3

This course provides an introduction to controlling and improving quality in a manufacturing setting. It explores ways that manufacturers use data and analysis to improve quality and introduces students to lean manufacturing techniques. Course content is based on the Manufacturing Skill Standards Council (MSSC) Certified Production Technician curriculum. Students will qualify to sit for MSSC-M2 - Quality and Continuous Improvement Certification through the MSSC.
Prerequisites:
(none)

MFG 110
Introduction to CAD/CAM
Details
3

A continuation of the study of Computer Numerical Control (CNC) programming with emphasis on advanced milling and turning machine techniques, program set-up, carbide tooling, program input, program editing, and introductory 3-D machining techniques. Trains machine tool qualified individuals in the operation and programming of CNC machining centers interfaced with CAD/CAM software. CNC applications will be applied to the development of projects through secondary laboratory experiences.
Prerequisites:
CAD 114 and MFG 105 or consent of department

MFG 113
Introduction to Manufacturing & Industrial Safety
Details
3

This course provides students with an introduction to the manufacturing world and provides specific instruction to facilitate safe work practices in industrial environments. It introduces manufacturing specializations such as mechatronics, precision machining and welding and covers fire safety, pressurized gases, electrical hazards, safe machine usage, and lock out tag out. Students learn concepts of industrial noise, machine guarding, electrical safety, chemical exposure, hazardous waste, Worker's Compensation laws, liability, and general safety precautions for the workplace. Course content is based on the Manufacturing Skill Standards Council (MSSC) Certified Production Technician curriculum and OSHA standards. Students will also receive an OSHA 10 Card (Must be in class for 10 hours with an instructor to earn an OSHA card.) Students will qualify to sit for MSSC-M1-Safety Certification through the MSSC.
Prerequisites:
(none)

MFG 150
Handling Tool Operations/Programming
Details
3

This course is intended for an operator, technician, engineer or programmer who must setup and record programs on a robot. The course covers the tasks required to set up the specific application, test, run and refine the program and production setup. The course consists of lectures, demonstrations, and lab exercises.
Prerequisites:
(none)
Gainful Employment: For more information about graduation rates, cost, the median debt of students who complete the program, and other information, please view our Gainful Employment information for the particular certificate of study.