Diversity, Equity, & Inclusion
John Wood Community College is committed to enhancing campus culture by embracing diversity as a component of excellence based upon mutual respect. We intentionally strive to ensure that everyone has equitable access to JWCC and its resources. We are dedicated to enriching lives through learning by providing a space where all feel welcomed and safe as we learn, work, teach and grow together. Our priority is to cultivate an environment that promotes respect and empathy by amplifying our important stories and life experiences as we celebrate our differences and similarities.
Diversity
Valuing the variety of human experience
Equity
Creating fair access to opportunity
Inclusion
Intentionally including diverse contributions
Inclusion Hallmarks
Diversity is being invited to the party; Inclusion is being asked to dance
Choose Your Words Wisely
Use your own words to explain the role of inclusion
Avoid words that support stereotypes
Choose words that don't offend
Refer to diverse groups in appropriate terms
Broaden the examples you use to include diverse groups
Respect the use of languages other than your own
Leave No One Behind
Listen to all voices
Include those who are left out
Seek diverse perspectives and opinions
Communicate to reach all audiences
Choose activities that include everyone
Create groups of multiple diversities
Respect dietary restrictions
Avoid favoritism
Speak Up Respectfully
Be courageous
Share who you are
Respectfully address behaviors that are not inclusive
Say when you are offended
Share inclusion and diversity stories of success
Ask to be included
Encourage All to Succeed
Discover others' possibilities
Encourage diversity as a strength
Share unwritten rules
Accept request to mentor
Find a mentor for yourself
Share your knowledge
Recognize and work with the challenges of others
Seek To Understand
Open your mind and question your assumptions
Seek to understand different points of view
Ask questions
Answer questions respectfully
Get to know someone different than you
Walk in your coworkers' shoes
Cultural Diversity & Inclusion Club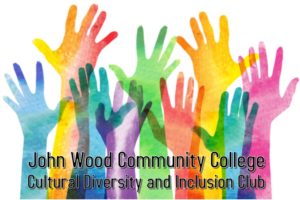 Support DEI through our cultural diversity & inclusion club through the Student Government Association!
How can we help?
Teresa Bertelli
JWCC Coordinator, Counseling Services
Room: D030
217.641.4360
Email Teresa