Blazer Stories
Before earning his CDL through John Wood Community College's Truck Driver Training (TDT) program, Luke Lish worked long hours in a warehouse. After working 13 days in a row, he and his wife were in the car driving behind a semi when Luke said, "I bet I could get in that truck, be home more, and make twice as much money."
With the support of his wife and his workplace, Luke started John Wood's TDT program, eventually graduating in 2007.
"I didn't feel like I just got my CDL; I was ready to be a truck driver. Many schools offer that you can 'get your CDL in 24 hours,' but what do you actually learn? JWCC gave me a lot of knowledge about the business. The things I learned prepared me for the real-life workforce. John Wood has the equipment that you are going to see out in the workforce, they have knowledgeable instructors, and they are PTDI certified."
Now working at McNay as a Training Director and Safety Manager, Luke values getting to teach others the trade. Knowing the opportunities in his industry, he says, "You don't have to be gone for weeks at a time. There are plenty of jobs where you can be home every night."
When asked what he would tell someone considering John Wood's TDT program, Luke sums it up nicely: "Eight weeks of training and you're on a career path to make good money!"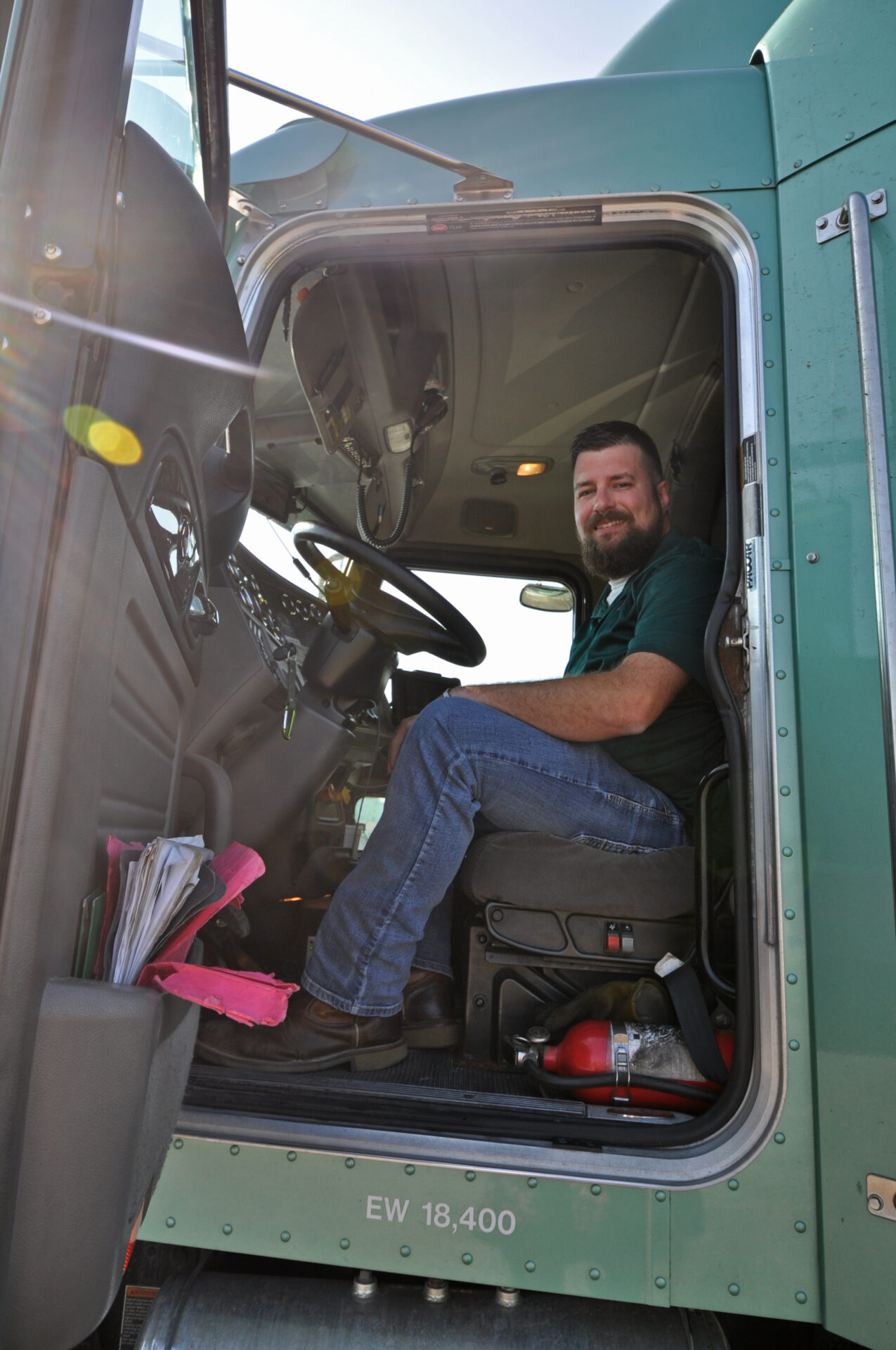 Triple the Value
Triplets Jacob, Rachel, and Sadie Smith must enjoy doing things together because all three of them decided to take the same college path. Born and raised in Quincy, the siblings all chose to save some money and utilize John Wood Community College to get their associate degrees first. The trio is currently continuing their education at Quincy University.
Jacob, the oldest of the three, plans to major in Business Management. Reflecting on his JWCC experience, Jacob says, "I am thankful for my time at John Wood, for the teachers, staff, and my TRiO advisor Elle House.  Elle was extremely helpful in keeping me on track each semester. Also, the business and time management classes helped me to work more efficiently in my own lawn care business and to balance my time between work and college."
Rachel, who was happy to call us for this group photo, will be getting her degree online in Early Education. While attending John Wood, she was pleased to get a full-time position at Creative Kids Learning Center. Her husband is in the Air Force, and the couple currently lives in Las Vegas, Nevada. Through the transition, Rachel remembers, "Moving while in school would have been much harder without the help of TRiO and Alisa Cameron, who has been a huge support. John Wood gave me the ability to be very flexible with my classes."
Sadie is going for her bachelor's degree in Early Childhood Education (and might add a few classes to complete Elementary Education as well.) She worked two jobs while attending JWCC and valued taking online classes around her busy schedule. She is happy to say, "I appreciated the support and guidance given to me by my JWCC advisors, teachers, and staff.  My TRiO advisor Elle House really helped me with my transfer to Quincy University. I am very thankful for my JWCC experience."
In his own words: A message from Alumnus Bruce Oglat
The game of basketball led me to John wood Community College. As a teenager, I was recruited by Coach Hoyt to join the 2014-2015 basketball team.
There are many differences between Gabon and the American Midwest. Of course, they are on two different continents, the language is different, and it never snows in Gabon! One of the most obvious differences between my basketball experience there compared to Quincy was the involvement of the community for basketball, how invested the community is regarding sports activities. Basketball is more cultural here than back home.
I will always regard Coach Hoyt as the number one influence in my life during that time. His involvement in my transition to John Wood from Africa was tremendous. He walked beside me every step of the way, leading me in my adaptation process. He always made sure I did not need anything. During the holidays, I spent time with him and his family like one of their own. He always made sure I was keeping my grades up, and when I was struggling in a class, he would reach out and offer his personal time to help me. He would sign me up for summer classes and help me with class projects. This man made a huge impact on me. I see him as a mentor and a great role model in my life.
JWCC made me feel special. The teachers were incredibly helpful; they would give up considerable amounts of their free time to personally work with me. I remember specifically Miss Fredericks, my sociology teacher, Mrs. Cathy Stephen, my accounting teacher, and my English teacher Miss Miller, who has passed, rest in peace. I cannot named them all, but all of my instructors at some point made an impact in my life. The personal administrative was very nice and made my experience unique. John Wood gave me an incredible support system that I had never had in any school before. They provided me with every tool that I needed to succeed. Even when my athletic scholarship was terminated, John Wood still provided me with the Solar Fund scholarship, so I would be able to finish my classes and graduate. I deserve very little credit for all my accomplishments up until now, all I had and will always have is my desire to better myself alongside with my determination.
My most fond memories are centered on basketball, time with my teammates was precious, and we share so many stories and have many memories that will last forever. In addition, of course the day I graduated.
There were many challenges that came along with navigating a new culture; perhaps one of the biggest was learning a new language. It was very essential for my personal development, and my potential could not have be expressed freely without it.
The values that the school represents and the great support systems they place around their students is incredible, and being a part of such an institution makes me so proud.  John wood equipped me with new skills that I used alongside my natural ability to connect with people. They laid in me the foundation I needed to succeed in my next step, which was further studies at Hannibal LaGrange University.
John Wood paved the path that brought me here to Quincy. Since then I have built many relationships with some wonderful people that have made me feel at home. It would be very hard for me to leave this community, because there are so many things here in Quincy that I am now attached to and value deeply. This city is now part of my story, and continues to shape who I am becoming, I am very grateful for it.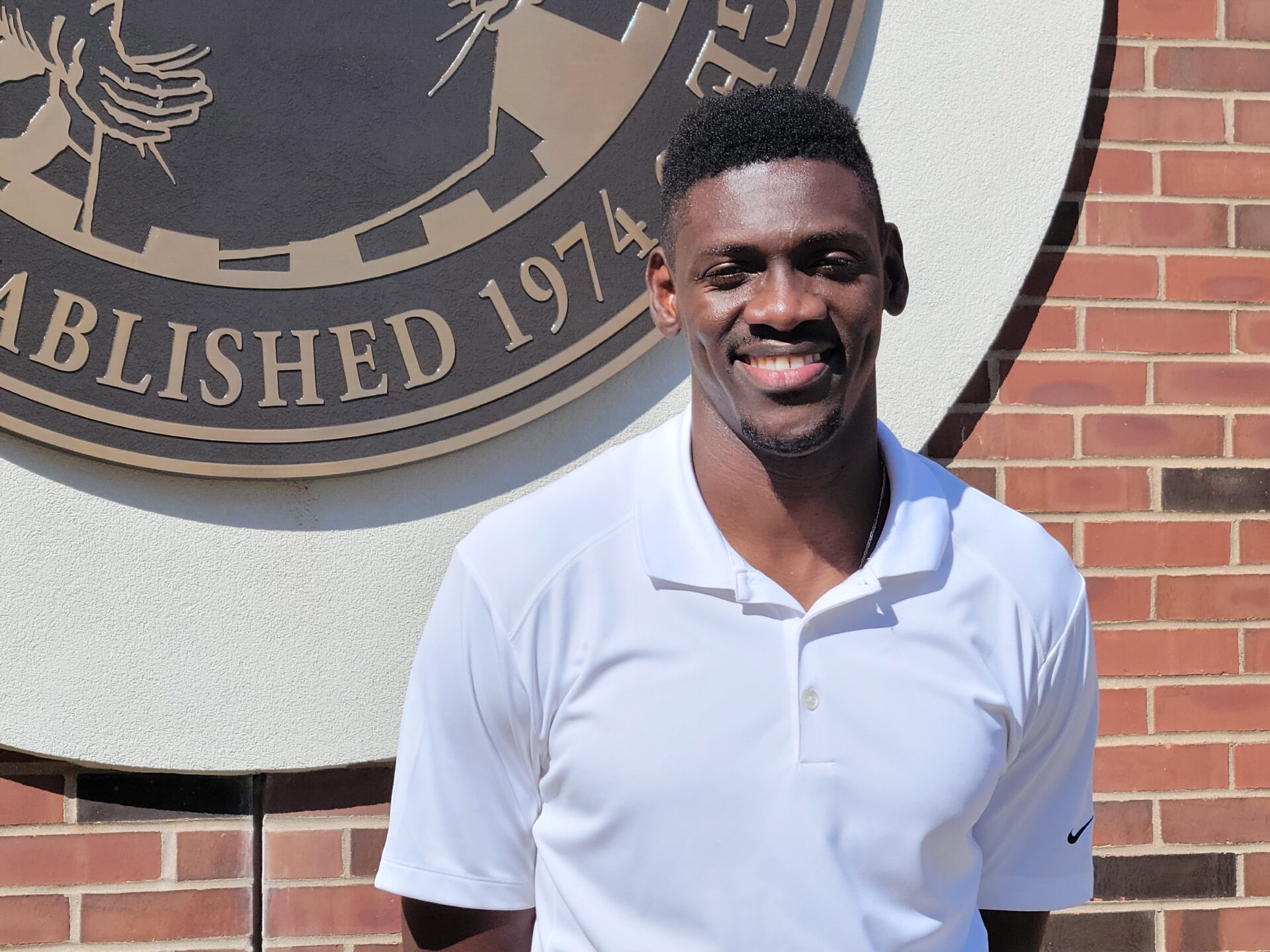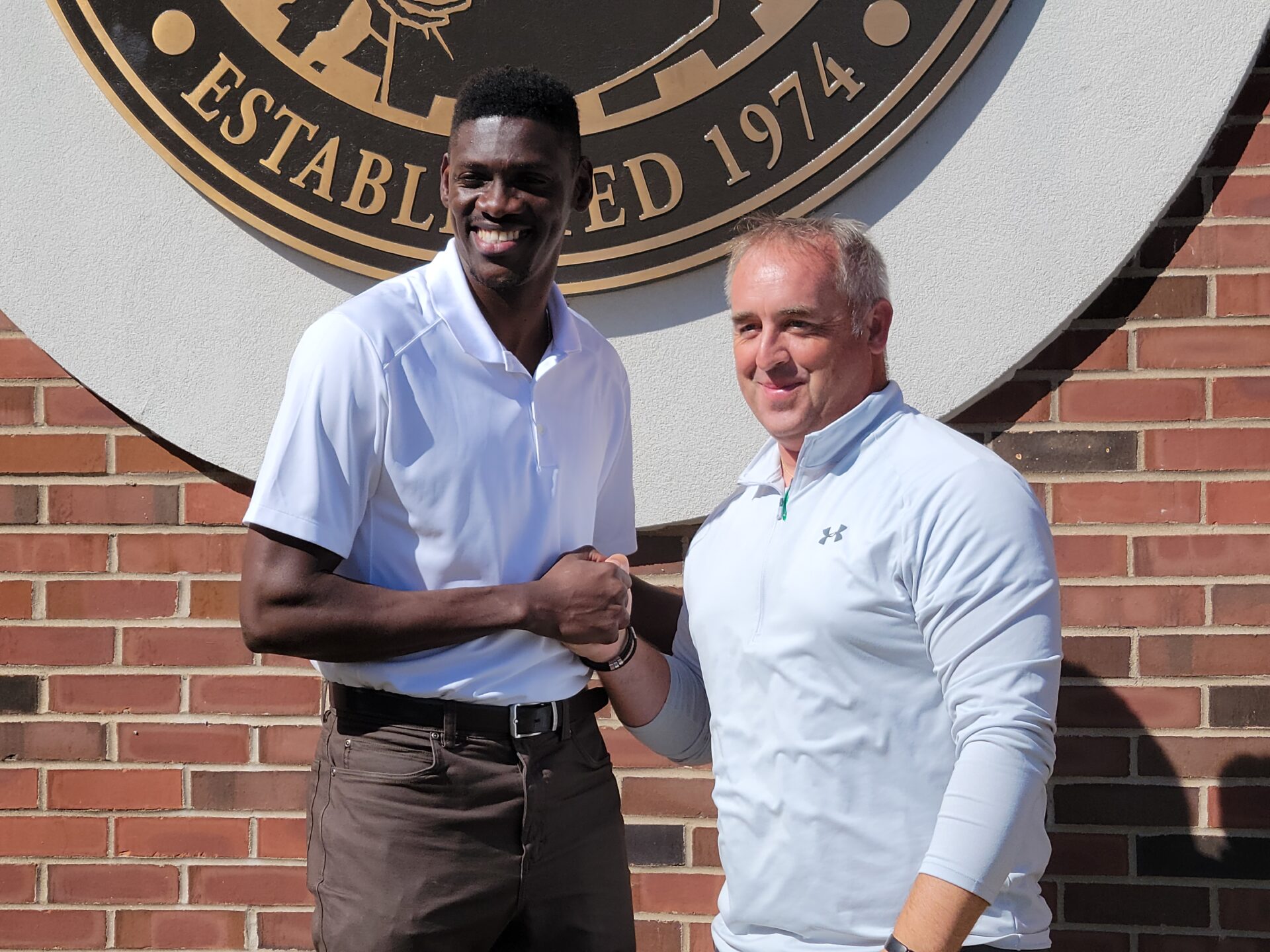 Evan Conover is a sophomore at John Wood Community College who is still deciding exactly what major he wants to pursue. While undecided on his official course of study, he is also taking every music class he can.
"Currently, I am taking Music Theory, Choir, Vocal Show, and Piano. I am also taking voice lessons," said Evan.
Before enrolling at JWCC, Evan wasn't aware the community college had so much to offer when it came to music. Evan began to become aware of the possibilities when he was invited to audition for a music scholarship.
"I knew I wanted to go to college here in the region.  I made the decision to attend John Wood when Dr. Soebbing called me and told me about the music scholarship auditions," Evan said. "So I stepped up and auditioned and got a music scholarship.  With that, I saved a lot of money."
After arriving on campus, Evan quickly learned there are a variety of courses and student groups that have allowed him to develop his musical abilities.
"I have learned to play piano since coming here. I am also the president of the Music Club," said Evan. "I would absolutely recommend John Wood and their music program to others. I am getting a great education."
While not an official music major, Evan has grabbed the attention of his professors.
"Evan is exceptionally talented. He is a wonderful tenor in choir and vocal show," said Dr. Steven Soebbing, Assistant Professor of Fine Arts at JWCC. "He has seized upon all the opportunities presented to him and really grown as a person and a student during his time here." 
The feelings of admiration are mutual.  Evan has enjoyed his time at JWCC and thinks others might too.
"If someone really wanted to make music their future job or fulltime job, I would tell them about the music department at John Wood Community College and about what good instructors they have, and all the cool stuff they do throughout the year."
Grace Meyer is a woman who is used to defying expectations.
Born with spinal bifida & hydrocephalus, Grace began her life with more challenges than most. But that has not slowed her down, nor gotten in the way of her dreams.
Beginning young, Grace has set a pattern of accomplishing what she set out to do.  When she learned that selling 2500 boxes of Girl Scout cookies earned that scout a trip to Disney World, Grace sold 2500 boxes of cookies. Each year. Five years in a row.
And when Grace saw a need for more inclusivity at Camp Sacajawea, a camp on the outskirts of Quincy, Operation Trail of Freedom was born. Under Grace's leadership and planning, sidewalks, a sensory trail, ramps, benches and concrete pads were built at the camp, allowing for more accessibility and an overall better experience for everyone. Her hard work also earned her a Gold Award from the Girl Scouts of America. This is the highest honor awarded by the Girl Scouts, and signifies that the work done by Grace will continue on after her involvement. She was also recently recognized by the YWCA with the Young Woman of Achievement Award, which was accompanied with a $1000 scholarship.
This brief summary does not come close to covering the accolades awarded to Grace, and Grace is not even 20 years old.
After achieving so much, what is the next step for Grace? College.
Grace is attending classes both at Quincy Senior High and John Wood Community College as a dual-enrolled high school student still receiving special education services under her IEP Transition Plan. AT JWCC, Grace is enrolled in both veterinary tech classes and the College for Life program.
"College for Life is a program where students with disabilities can prepare for work and adult independence by learning skills like cooking, healthy relationships and medical advocacy," said Grace. "I learned about it through some old friends and have already met new friends in the program."
In addition to her academic endeavors, Grace is also a member of the Blazer's Cheerleading squad.
"My schedule is a little hectic, but overall I like cheerleading a lot. It's really fun, especially getting to do the stunting," said Grace
Cheerleading is a natural fit for Grace, who is bubbly and outgoing. Though she had experience on the Sparkle Squad in high school, Grace's first JWCC game is this winter when basketball season starts.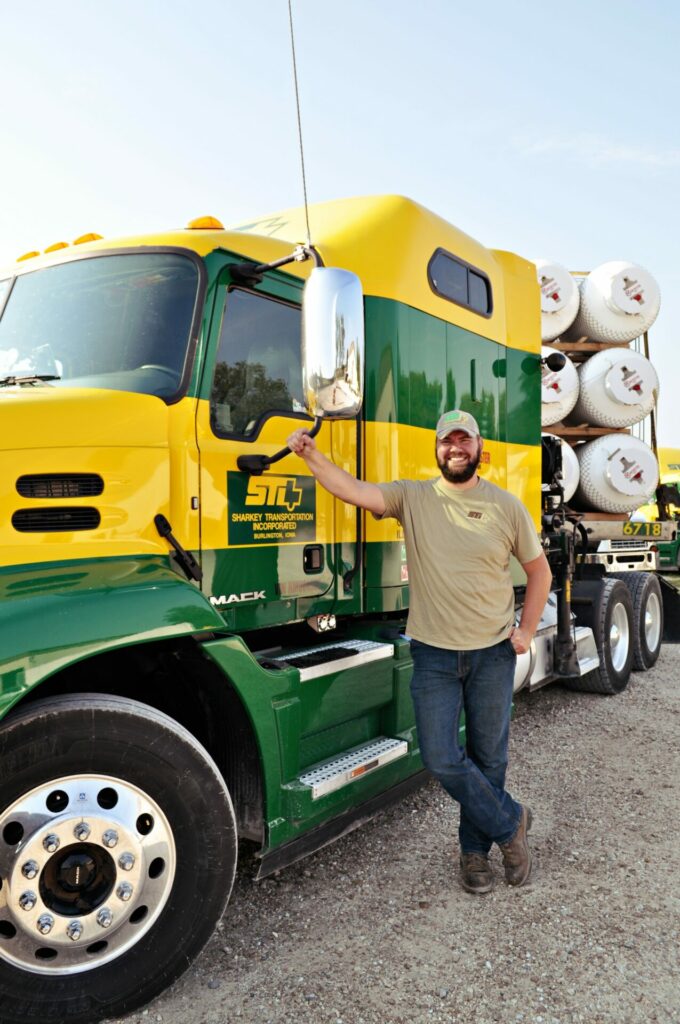 Most of us can only imagine what it would be like to work in a prison. Mark Sanders had been working as a corrections officer for over five years when he noticed, "It got to where I was very moody and an angry person because of what I dealt with daily."
Mark switched jobs and while working at Bear Creek Warehouse in Hannibal, Missouri, a new opportunity arose. He grew up on a farm near New London – and had been around semis all his life – but never had his license. Getting to know Mark and witnessing his strong work ethic, Jack Sharkey recommended Mark for Sharkey Transportation's Truck Driver Scholarship Program through John Wood Community College.
Mark was the first student to receive Sharkey's scholarship, and completed the TDT program in 2017. He is grateful to say, "The instructors were knowledgeable and really helpful. It's a good program. If you've never been around the industry, if you have no idea what driving restrictions are and what your hours will be, it gives you a good baseline and good information to help you get out there and get a career."
Mark has worked for Sharky for five years and currently works in the crane truck division. "It's good to be able to pass on what I've learned to people." Looking back on his job as a prison guard, Mark says, "In doing this, I'm kind of my own boss. I get out there, do my thing, and set my schedule. It's a lot more relaxing!"
As a family man, he is pleased to add, "It gave me a foot in the door to something that I am always going to have a career in. before I went to John Wood, I was struggling paycheck to paycheck. Since I've been driving, I've been able to buy a bigger house for the family and provide better."