Traditions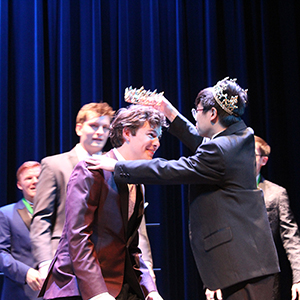 Mr. John Wood
Mr. John Wood is a male pageant held in February and is the biggest fundraiser John Wood holds every year. All proceeds go to Quanada, which is a domestic abuse shelter in Quincy. 8-10 John Wood male student compete to see who will be crowned the current year's Mr. John Wood. The fundraiser consists of three portions: talent, sportwear, and formal wear. Admission to the pageant is $2 and during intermission attendees are encouraged to vote for the People's Choice Award by putting money into the bucket of the contestant of their choice. The event is guaranteed to give the audience a good laugh while promoting a good cause.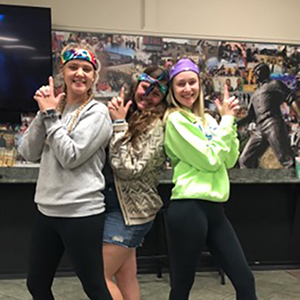 Humans Vs. Zombies
Who doesn't love a good game of tag played around campus? Humans Vs. Zombies is essentially a weeklong, campus wide game of tag. We start off with one zombie who slowly infects more and more humans until there is only one human left! Can you survive?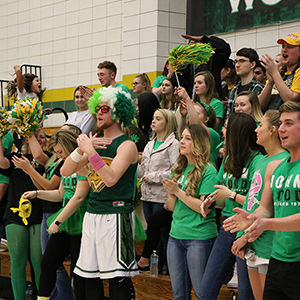 Wood Pile
The Wood Pile is the spot to be during the sporting events at John Wood! Students all sit together and cheer on the Blazers! They provide a few laughs during free throw shots, dress in themes, and help provide that winning atmosphere needed to help bring the Blazers to a victory.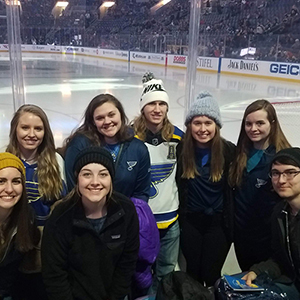 Road Trips
John Wood's Student Life Department takes students on a few road trips every year! Most road trips are down to St. Louis for the Zoo, Fright Fest at Six Flags, a St. Louis Blues hockey game, and a St. Louis Cardinals baseball game. The students create super fun lifelong memories on these trips that will help enhance their college experience!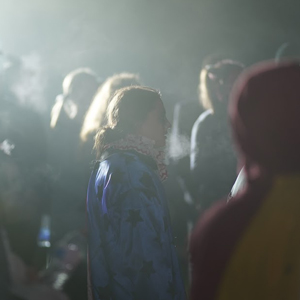 Haunted Trail
Boo! If that scared you, you're going to be terrified at the annual Haunted Trails event held around Halloween every year behind the campus in the John Wood Trails. Students team up to create a super exhilarating and spooky experience for members of the community to walk through and have their Halloween scare needs fulfilled! This event helps raise money for the John Wood Community College Student Life Department so that they can continue to give students fun experiences year-round!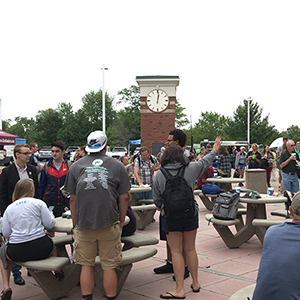 Blazer BBQ
The Blazer BBQ is a fun day for students in August at the beginning of the school year! Students can go outside by the Clock Tower Commons, stop at various clubs, organizations, and local business' booths to score free swag, while also getting to enjoy a delicious free meal grilled by John Wood's Agriculture students! This event also gives students a chance to meet new students and start forming a connection to John Wood and all it has to offer!