Heath Center Art Gallery
The Heath Center Art Gallery is located in the lower level of the Paul Heath Community Education and Fine Arts Center. The spectacular large-scale floor mosaic titled "Creation" by Youlia Tkatchouk serves as the centerpiece of the gallery. The gallery is open during regular college hours of operation. Exhibits are open to the public and available at no charge. Exhibits generally rotate on a monthly basis.
The college is also home to a growing permanent collection of works including the bronze statue, The Spirit of John Wood, created by Payson artist Kirk St. Maur, seen in front of the Student Administration Building. Other works purchased through the Art-in-Architecture program are on display in the Science and Technology Building year-round, some created by regional artists.
Art-In-Architecture Program
In April 2001, ten works of art were unveiled as the beginning of the John Wood Community College's permanent art collection. The artwork was purchased through the State of Illinois Art-in-Architecture Program and are on permanent display in the Science and Technology Center at the JWCC Quincy campus located at 48th and Harrison.
The Art-in-Architecture Program was created in 1977 and has worked to promote and preserve the arts of Illinois by securing artwork of all media for public buildings constructed with State funds. It focuses on the acquisition of artwork by Illinois artists and has purchased or commissioned more than 500 works of art displayed at more than 75 locations throughout Illinois.
About the Collection
All ten pieces are by Illinois artists, including two by Quincyans — Abandoned by Anne Campfield and Enduring Arch by John Inman. Other pieces are Double Still Life with Blue Light by James D. Butler, Bloomington; All Children Must… by David Driesbach, DeKalb; Niche, X by Richard Finch, Bloomington; State, IV by Harold Gregor, Bloomington; Summer Storm by Fred Jones, Macomb; Six Episodes of Monarch by Ellen Lanyon, Chicago; Façade by Robert Malone, Edwardsville; and Black Star by Jeanette Pasin Sloan, River Forest.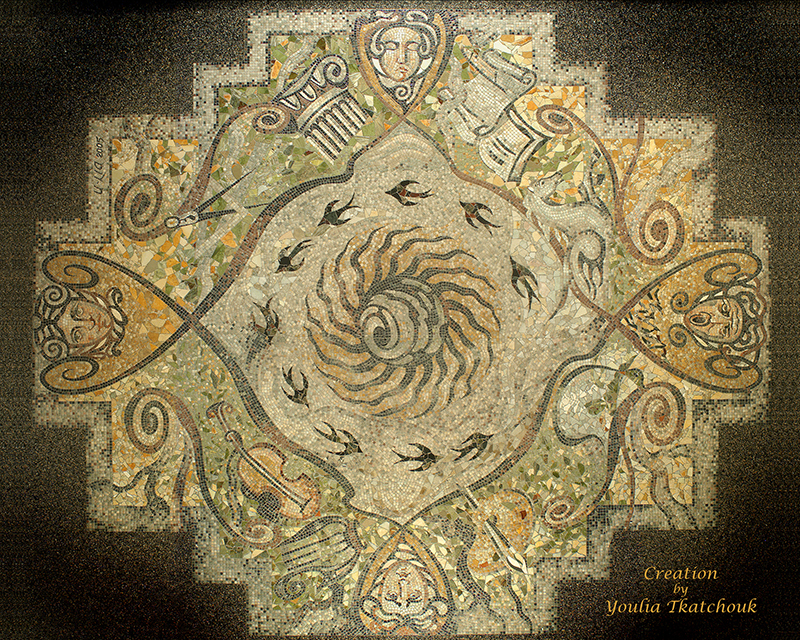 The Creation mosaic was commissioned through the State of Illinois Capital Development Board's Art-in-Architecture Program.  Youlia Tkatchouk was selected to design and install the mosaic in the auditorium lobby. The mosaic was fabricated in the artist's Chicago studio over a period of several months, then transported in sections to the site and installed.