Train for a career
Short-Term Training,
Big-Time Pay!
New skills for white and blue color jobs in 50+ career and technical programs will put you in demand making a solid salary plus benefits.
Career Pathways
Learn how you can build your career one step at a time with our Careers Pathways booklet.
Certificate

8 weeks to a year
Degree

1 year to three years
Attend

part-time or full-time
Self-Paced

day, evening, open learning, online
Time to Complete
Career training can range from eight weeks to a year for a certificate, or one to three years for an associate degree. Many students with new career and technical skills have multiple job offers before graduation.
Five Easy Ways to Find Your Path.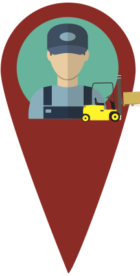 Careers In Demand
Hundreds of positions in the Tri-State region (Illinois/Missouri/Iowa) are open in key workforce areas that range in pay from $12 to $27 an hour plus benefits.
Because these areas are in demand, more grants and financial support are available for students who enter specific programs an employers often offer to pay for training and sign-on bonuses.